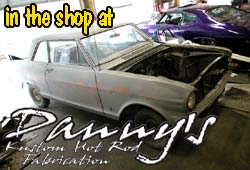 Some Progress Pics of the Chevy II

Gabriel Martin del Campo from El Paso is have Danny's Kuston build up his shoebox Nova. Here's some pics of the work in prgress.
added 01-28-04 - Frame is painted and waiting for the body at the paint shop.
added 12-11-03
to be continued....
Danny's Kustom
915.855.6400
El Paso, TX

MORE OF DANNY'S WORK
Danny's Diablo