el paso nostalgia drag racing page Joe Ortega Photo Album


UNCLE SAM AMX SS
1 of 51 Production race cars - 390 4 speed
Joe Ortega 1969 AMX SS
Original Drivers: Tom Shelton & Dennis Kincaid
Owned by Mack Massey
Pictures thanks to Joe Ortega
Bob Nichols & Rick Bennett for the history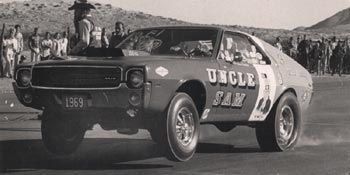 Forgotten Racers from El Paso Texas...
This is just one of the super stock and stock racers to come out of El Paso in the 70's. "Uncle Sam" was a factory ordered 1969 SS AMX race car powered by a big block AMC 390 and a 4 Speed. Since it was a factory racer, it had no street accessories to weigh it down. No heater, radio delete,etc.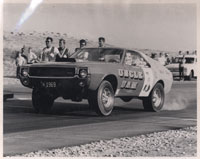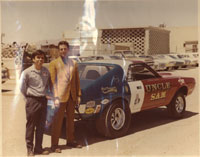 Uncle Sam was ordered by Mack Massey Jr and is 1 of only 51 AMX SS's produced. Because of production rules of the NHRA at the time manufactures had to produce at least 50 units to be legal for competition. Mack Massey in the classic car salesman jacket standing next to Joe Ortega. Joe was a mechanic at Mack's dealership & chief wrench on Uncle Sam along with Shelton.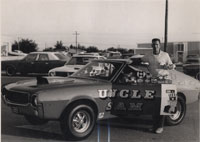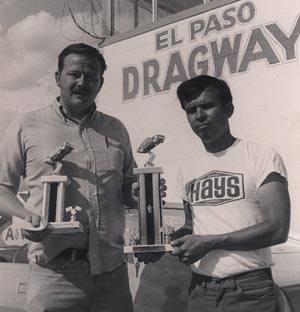 The car's oringinal driver was Tom Shelton (left picture). The right pic is Dennis Kincaid second driver of the car (still with Joe Ortega tuning) who ran the car from 1969 thru 1971.
Bonnie Shelton (Tom's wife) also drag raced AMC factory racers. First, an orange & black AMC Rebel & later a red, white, & blue Rebel (both factory cars bought by them from Mack Massey).
- I might have a line on some pice of these cars RM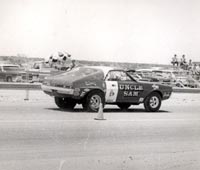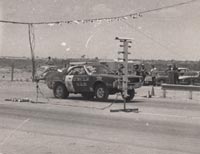 At the old AHRA national in Tucson in 1969 they were the speed record holder.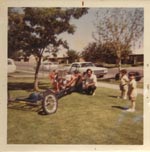 Joe Ortega and his sons in this 1971 photo with Tom Sheltons
big inch AMC front engine dragster.
Tom Shelton left in 70 to race gas dragster with a big injected cubic inch amc motor. (that motor went on to be owned by Rick Bennet now Ray griffin has)

uncle sam received a 1970 make over ..( check out www.ssamx.com for production updates) to run in super stockas a 1970. They changed the hood, grill, dash, emblems, and taillights. But that year there were so few of them, only 7at that time. So they had to run a/gas for a while.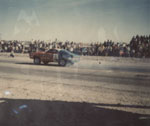 They continued to race in Tucson, Phoenix, Pomona, Carlbad, Sunland Park, Penwell, Amarillo and around the area.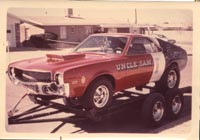 This pic is said to be taken while Ray Griffin owned and raced it-
Notice the "UNCLE SAM" lettering is smaller -

In 1971 it was purchased by Ray Griffin who raced it and later sold...it's rumored to be in canada now.
If you have any info on the where abouts of this car contact screaminmadjd@yahoo.com
For more on AMX SS race cars go to www.SSAMX.com
More photos from the album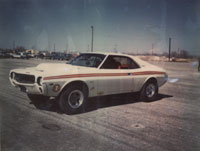 Dennis Jenkins' white Javelin,
was service manager at Mack Massey at the time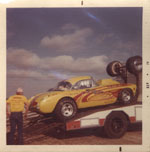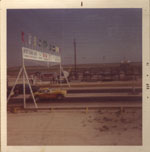 Steve Faskins, this Vette was later sold to Mike Griffin
to become the blue vette in the following pics.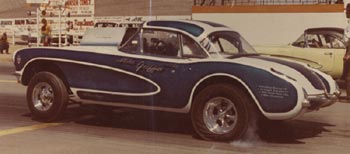 Mike Griffin El Paso Dragway late 1968 or 1969
Don Farnsworth in the yellow Vette.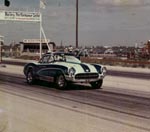 Mike Griffin where??


CASA Ford sposored Ford AFX Falcon of Tim Coltharp against a
wheelstanding Anglia of Pelo at El Paso Dragway