60 racers show as ASR kicked off the drag racing season in style with the February Test & Tune. We couldn't make it up to get photos for the site but luckily Lew Babenco emailed a few shots and even a few short videos over. Thanks Lew!
VIDEO SHORTS - Small files
Donna Hill's Blown Ford Dragster
Adobe Deli Maverick Burnout
Yasha's FAST Ford F-150
Black Dodge
Mayfield High School Impala Burnout
Mayfield High School Impala
Roger on his Bike
Andy Wiles Yellow Dodge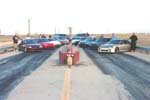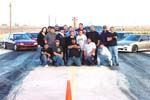 The guys from Biospeed out of Las Cruces, NM
keeping it off the streets and putting it on the track
They came out and learned how to bracket race and learn the tree.
They seemed too be having a good time and got to make
all the runs they wanted & time slips to boot.