THE ARCHIVE
Arizona Fun Ford Weekend Video- 14mb download - Lots of Wheels up action with a two cars on the bumper! You gotta check it out Click Here! - or pics from this race

Drag Races 2003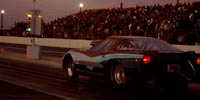 Race Wars was HUGE!! Page 2 Page 3 Ray Frescas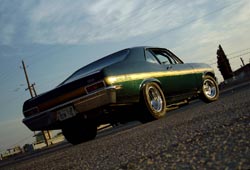 Joe Pena made 646 horsepower on the Evolution Dyno. Then he opened the blue bottle up and made 832 HP to the rear wheels! more...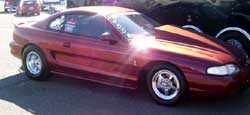 Phoenix Fun Ford Pics
more..
Courtesy Jeff and Kim Holiday
ARROYO SECO NOVEMBER
Pics from Todd Ryden and more from Joey Lapille.

PSCA (Pacific Street Car Assoc) at Speedworld in Phoenix November 03. More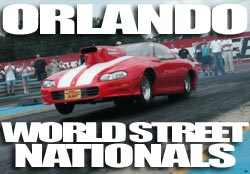 The Biggest Street Race of them all! Orlando, FL. courtesy of Todd Ryden.

ARROYO SECO THIS Oct. 19th .more...
Dezert Demonz Street Shootout Sunday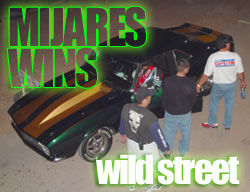 The turnout was really good, the races were awesome and spectator turnout was really good too- a few thousand people at only 4 bucks to watch. JR Mijares took the green and gold 68 Camaro and won the Wild street class and then won the $300 Challenge against Joe Pena. The rest...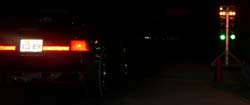 Dezert Demonz Friday 9-20-03 Check them out.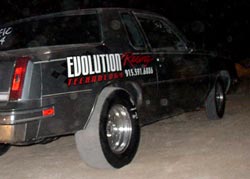 The Fast and the Filthy out at Dezert Demonz. Speed Shop Shootout, Mud Bogs, and Live Music
Rick Peterson -Evolution Racing Joe Pena and Eric Brock, lSpeed Factory Jake Smith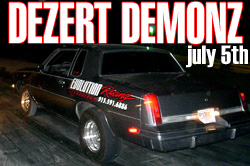 Friday September 5th Dezert Demonz Drags. Just a few pics to check out, not much happened but we did get to see Eric Brock's 496 powered Cutlass run on the bottle.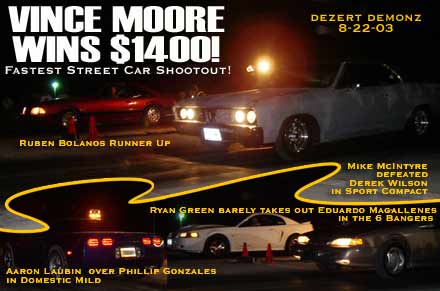 August 22 - Dezert Demonz Dragway. There were some quick cars out at Dezert Demonz batteling it out including Cliff Wells in his yellow Chevelle, Alan Alvarez and his red and white scalloped LX Mustang, Eric Brock's super clean big block nitrous Cutlass, Jaime Cardenas' nitrous assisted Mustang coupe, Greg Staford's wild big block blown Dart, Chachi Luevenos' Blown big block Camaro, and some nitrous Mustangs owned by Pete Melendez, Sal Contreras and Ruben Bolanos. Click Here for more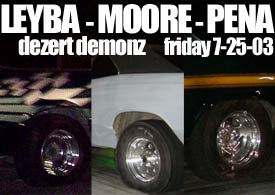 DEZERT DEMONZ
Friday July 25th
3 of the fastest street cars in El Paso put on a kick ass show!
ARROYO SECO June Results! Gordy King Jr. of Alamagordo over Andy Avila of El Paso in the Pro Finals. Modified was Nacho Nolasco taking first over Carlos Favela. Clark Scott took out Dick Ribble in the Street Finals.Motorcycle had KC Parks (i think) over Ron Comeau of El Paso in the finals.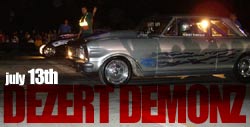 DEZERT DEMONZ July 13th 2003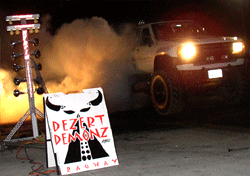 Dezert Demonz Friday the 13th! June- It was a WILD Tire poppin', rear end breaking, clutch smokin', and now the rods are knockin' kind of Burnout Contest! CLICK HERE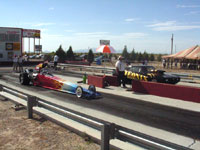 Arroyo Seco - May Results - El Paso racers take home the money! Julian Moody takes Pro, Ray Villareal took mod over Ruben Gomez and Rick Peterson took the motorcycle class as Ron Hoss's bike got out of control on the launch. I don't know who won street (let me know). I had to work so I wasn't able to make this one. Click here for a few pics courtesy of Sammy and Cindy Torres.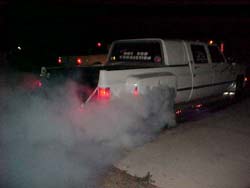 Dezert Demonz May 2003 Click Here - Billy Graham doing the 4 tire burnout!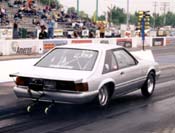 World Ford Challenge - wicked 7 second cars on a 10.5" slick & 6 Second Pro cars.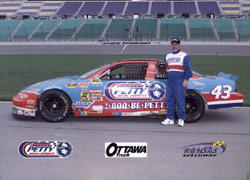 George Martin at the Richard Petty Driving Experience! - CLICK HERE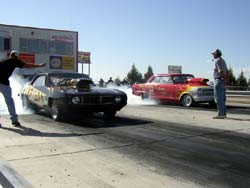 April 27 - ARROYO SECO 105 Cars! . CLICK HERE! -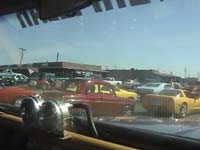 Las Cruces Parade and Car Show Saturday April 26th- Click here for pics!
Big Parade and Car show - coverage and pics courtesy of John Figart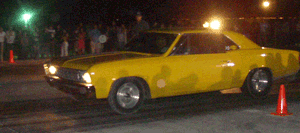 Dezert Demonz Sunday April 27th - CLICK HERE!


Dezert Demonz drags. estimated 8,000 people. CLICK HERE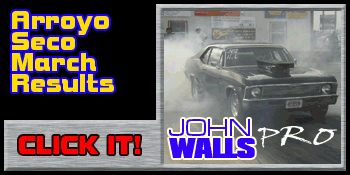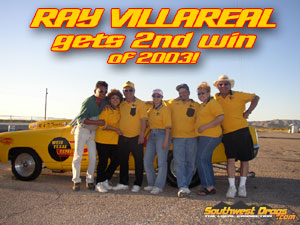 El Paso March 23rd 2003 Team Mijares continues their El Paso Pro Dominance while West Texas Trucking's Ray Villareal got his second win of the season in Mod! Rick Peterson of Show n' Go showed the motorcycle guys that he's got skillsand took the first.
Dezert Demonz Dragway at the West Texas Airport. Great to be around the street racing scene again. Check out this huge race- click here
Sunday Test & Tune El Paso- Unfortunately we did not stay around for the clean up as this Turbo Supra smacked the wall. Here's a few pics I did get.
El Paso 02-02-03 -Click Here for Pics!

PICS From the NMRA RACE in Florida.
Archive 2002
Arroyo Seco November - results only.
STREET SHOOTOUT El Paso- NOVEMBER 10th
El Paso Friday Night Drags Oct. 4th
El Paso Dragway September Results!
Friday Night drags at Thunder Alley 9/20/02
El Paso Dragway Sept. Race Results
El Paso August 3rd Race Results
El Paso July 6th results and pics
Arroyo Seco June Race results and pictures
El Paso Dragway 5/31/02 Friday Night Drags
El Paso Dragway 5/24/02 Friday Night Drags